Day 2 :
Keynote Forum
University of Trento, Italy
Time : 09:10-09:40

Biography:
Paolo Scardi is a Full Professor of Material Science and Technology and Head of the PhD School in Civil, Environmental and Mechanical Engineering at the University of Trento, Italy. He is the author of more than 250 papers and his main interest concerns diffraction and crystallography with applications to materials science. His recent work focuses on thin films and highly deformed materials, photovoltaic devices, residual stress analysis and atomistic modeling of nanocrystalline materials.
Abstract:
Much is known about the effect of size and shape of metal nanocrystals on their catalytic activity. Size effect may appear obvious for the direct relation with the total surface area exposed to the environment, whereas shape is a major factor controlling selectivity of the catalytic reaction. Palladium nanocrystals, for example, can catalyze a variety of oxidation reactions, but the yield of the process is strongly influenced by the exposed nanocrystal facets: Better O2 activation occurs on (100) than on (111) facets, for the differences in the O-O bond stretch and spin charge density. As a consequence, Pd nanocubes are much more effective than nanooctahedra in oxygen-related catalytic reactions. The different, generally lower coordination of surface atoms reflects in an excess surface energy, which in many metals gives shorter bond distances between surface atoms, causing an average shrinking of the nanoparticle. The atomic displacement influences electronic properties, leading to d-band center modification and, in general, surface properties differing from corresponding bulk materials. Change in bond distances is largest on the surface, gradually decreasing toward the nanoparticle core; therefore, the displacement field is inhomogeneous and depends on nanocrystal size and shape. In addition to the static component, dynamic displacement in nanocrystals is also peculiar: Phonon confinement arises from the finite size, capping longest possible phonon wavelengths, while additional effects are due to the amplitude of thermal vibration, changing toward the surface for the decreasing coordination. The present contribution shows how X-ray spectroscopies can shed light on the behavior of metal nanocrystals, influenced by complex relations between size, shape, surface atomic coordination and bond distances. Atomistic approaches are indispensable to go beyond the limits of traditional crystallography, clearly inappropriate to deal with small crystals. In particular, we show how X-ray diffraction, applied to powders of nanocrystals with definite shape and little size dispersion can provide detailed information on atomic disorder.
Keynote Forum
University of La Rochelle, France
Time : 09:40-10:10

Biography:
Professor Xavier Feaugas has published over three hundred papers, and several collective books in the field of physics, mechanics and metallurgy. His research interests lie in the area of physical bases of solid plasticity and crack initiation with a focus on interactions between plasticity and surface reactivity to understand the inception of hydrogen embrittlement and stress corrosion cracking. The main research topics are: physical bases of solid plasticity and crack initiation (dislocation pattern, slip activity, slip, irreversibility, local approach of fracture …) - Interaction between plasticity and surface reactivity (dissolution, hydrogen adsorption, passivity…) - Multi-physics modeling (ratcheting, cyclic over-hardening, hexagonal slip plasticity, thermo-kinetic modeling, polymer and composite degradation, diffusion …) - Hydrogen Embrittlement/Stress Corrosion Cracking - Crystallographic defects (dislocation, vacancy, grain-boundaries, …), length scales, internal stresses – physical and metallurgy thermodynamic. More recent trend of its works is focus on the different aspects of the interactions between the hydrogen solute and the crystallographic defects formalized in thermodynamic framework.
Abstract:
Hydrogen diffusion and trapping has an important role in solute-dependent hydrogen embrittlement in metals and metallic alloys. In spite of extensive studies, the complexity of hydrogen diffusion in solids remains a phenomenon that needs to be clarified. The effects of the grain boundaries (GBs), and several defects (dislocations, vacancies …) and their interactions with hydrogen on the mechanisms of metal damages remain a controversy. Actually, several works suggest that the grain boundaries represent preferential paths for hydrogen diffusion, and this kind of hydrogen diffusion along GBs is higher than the interstitial diffusion. However, grains and GBs contain different defects, particularly, dislocations and vacancies. These defects are able to trap hydrogen affecting the diffusion mechanisms. Although a number of theories have been proposed to describe the role of GBs for hydrogen diffusion and segregation, none of them is able to give an exact answer. In present work we report our recent works [1-5], which support the investigation of diffusion in pure nickel single crystals and poly-crystals using both an experimental approach and a thermodynamic development. We have studied at the first time some nickel single crystals. We evaluate the hydrogen diffusion and trapping mechanisms using the electrochemical permeation (EP) coupled to the thermal desorption spectroscopy (TDS). Later, we propose to screen several bi-crystals of pure nickel with different grain boundaries. For each ones, the hydrogen diffusion and segregation are studied using EP and TDS analyses. In addition, Molecular Dynamics (MD) simulations have become a useful method to comprehend the becoming of hydrogen in these types of GBs. The results allow us to associate the short-circuit diffusion and trapping phenomena to the grain boundaries and defect characters (excess volume, defects density and distribution …). In each situation, we highlight the importance of the self-stress on the processes of diffusion and segregation.
Keynote Forum
Brookhaven National Laboratory, USA
Time : 10:10-10:40

Biography:
Yimei Zhu is a Senior Physicist at Brookhaven National Laboratory (BNL) and Adjunct Professor at Columbia University and Stony Brook University. He has received his BS from Shanghai Jiaotong University in 1982, MS and PhD from Nagoya University in 1987. He joined BNL as an Assistant Scientist in 1988, rising through the rank to become Tenured Senior Physicist in 2002. He is the Founding Director of the Institute for Advanced Electron Microscopy and Facility Leader of the Functional Nanomaterials at BNL. His research interests include electron crystallography of condensed matter physics of strongly correlated electron systems and advanced electron microscopy including ultrafast microscopy instrumentation. He is an Inaugural Fellow of Microscopy Society of America, a Fellow of American Physical Society and a Fellow of American Association for the Advancement of Science. He has published more than 500 peer-reviewed journal articles and delivered more than 300 invited talks at international conferences.
Abstract:
Polaron transport, in which electron motion is strongly coupled to the underlying atomic lattice, is crucial to understanding the electrical conductivity in many solids. The accompanying atomic displacements are themselves coupled through phonons, but the specific phonon modes responsible for the dynamics of polaron motion have rarely been identified. In this presentation, I will first give an overview on the 2.8 MeV ultrafast electron diffraction instrument and the time resolved electron crystallography method we developed at BNL, then focus on its application to understand charge, orbital and lattice coupling and interaction in strongly correlated electron systems. A detailed example will be given on quantifying the dynamics of both electronic and atomic motion in the LaSr2Mn2O7 manganite. Using photoexcition to set the electronic system in motion, we find that Jahn-Teller-like O, La/Sr, and Mn4+ displacements dominate the lattice response and exhibit a dichotomy in behavior overshoot-and-recovery for one sub-lattice versus normal behavior for the other. This dichotomy, attributed to slow electronic relaxation, proves that polaron transport is a key process in doped manganites. Our technique with the access to high-order reflections and being sensitive to phonons promises to be applicable for specifying the nature of electron-phonon coupling in many complex materials.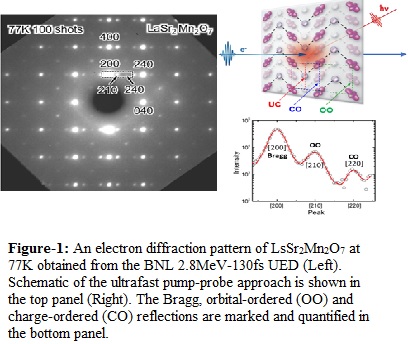 Break:
Networking & Refreshment Break 10:40-11:00 @ Athens
Speakers Session 1: Crystallography of Novel Materials | Electron Crystallography | Recent development in the X-ray studies| Crystallography Applications
Location: Conference Hall: Zurich
Speakers Session 2: Crystallography of Novel Materials | Electron Crystallography | Recent development in the X-ray studies| Crystallography Applications
Location: Conference Hall: Zurich